Article and Video by Bruce Cheaney
Ten leather tools to get started with leathercraft.  This would be my pick of leather tools to start leather working a craftsman trimming knife, round knife, awl haft and awl, saddlers awls, western edgers, CSO scratch compass and wing dividers and a leather workers hammer.  With these tools you will be able to cut out leather pieces and skive and edge them whether it is a belt, guitar strap, purse, wallet or any leather craft project you want to make.
1.  Craftsman Trimming Knife with a dozen curved blades.
2.  Head knife or a Round Knife either a C S Osborne or a Knife mad by the Weaver Leather Leather Company.
3.  C S Osborne Hand Skife Knife that uses injector razor blades this tool is for skiving leather by hand.
4.  C S Osborne awl haft and diamond shaped blade 2 1/4″ to 2 3/4″ in length.
5.  One small and one large size of the C S Osborne saddlers awls.
6.  Number 1 and number 2 size number 133 Western edgers made by C S Osborne.
7.  A Weaver Leather tight corner edger for edging around tight corners.
8.  C S Osborne 6″ or 8″ Wing Dividers.
9.  C S Osborne Scratch Compass for cutting a groove in the leather so the hand stitching will be protected against wear.
10. A good Cobblers Hammer or Leather Workers Hammer I have found several good ones on Ebay listed under vintage leather tools and all they needed was a new handle and then they were as good as new.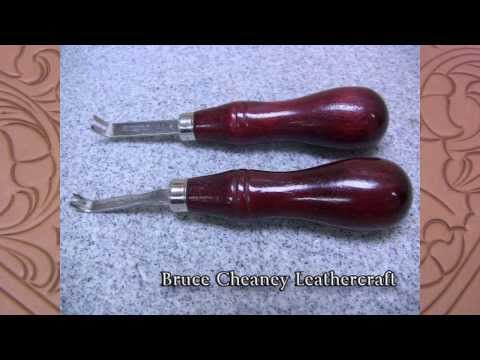 This video shows the ten leather tools I am talking about so you can get familiar with what they look like.
Bruce Cheaney Google+
Leather Tools Review
Leathercraft Forum
Additional Leather Tools Reviews